Anchor Industries was founded in 1892 along the Ohio River and sold various riverboat supplies, such as oil, groceries, paint, and canvas goods. Eventually, the company grew to offer outdoor fabric shade solutions, safety pool covers, military products, and fabric buildings. Today, they're the top supplier of fire shelters for firefighters across the country when looking for reliable wildland fire gear.
The company is known for pioneering various innovations, including aluminum tent frames and vinyl tent technology in fire shelters today. However, five characteristics set them apart from their competitors — and these reasons are critical for firefighters.
1. Stringent Manufacturing Standards
Anchor Industries fire shelters meet US Forestry Service specifications and hold the US government's stamp of approval. The company's manufacturing processes are ISO 9001 certified to ensure the highest safety and quality in the final product.
For over 30 years, they have been manufacturing government-approved fire shelters using specially designed manufacturing equipment. Their fire shelters have earned countless government awards and led the way in setting tent and structure quality standards.
2. Proven Effectiveness
When it comes to fire shelters, proven effectiveness is of paramount importance. Anchor Industries understands these products' critical role in protecting firefighters during emergencies.
Their fire shelters have undergone rigorous testing and have a proven track record of effectively shielding firefighters from intense heat and flames. This assurance gives firefighters the confidence to perform their duties in hazardous environments.
3. Durable Construction
In addition to their proven effectiveness, Anchor Industries fire shelters are known for their durable construction. Firefighting is demanding and challenging, requiring equipment that can withstand extreme conditions.
They uses high-quality materials and innovative manufacturing techniques to create fire shelters that are rugged and resilient. Their products are built to withstand intense heat, flames, and abrasion, ensuring they can withstand the rigors of firefighting operations.
4. Ergonomic Design
Another notable characteristic of Anchor Industries' fire shelters is their ergonomic design. Recognizing the importance of comfort and ease of use, the company incorporates ergonomic principles into the design of its products.
Firefighters must be able to quickly and efficiently deploy their fire shelters when faced with an imminent threat. These fire shelters are designed with intuitive features, easy-to-follow instructions, and user-friendly interfaces, enabling firefighters to deploy them rapidly and effectively, even in high-stress situations.
5. Firefighter Safety
Firefighter safety is at the core of Anchor Industries' mission. They prioritize the well-being of firefighters by continuously innovating and improving their fire shelter products.
Through extensive research and development, they have implemented advanced safety features to enhance protection. These features include heat-reflective materials, reinforced seams, and secure closures, all aimed at providing maximum safety and minimizing the risk of injury.
Moreover, they strongly focus on compliance with industry standards and regulations. They work closely with firefighting organizations and agencies to ensure their fire shelters meet or exceed the established safety requirements.
Adhering to these standards demonstrates its commitment to firefighter safety and reinforces its reputation as a reliable and responsible manufacturer.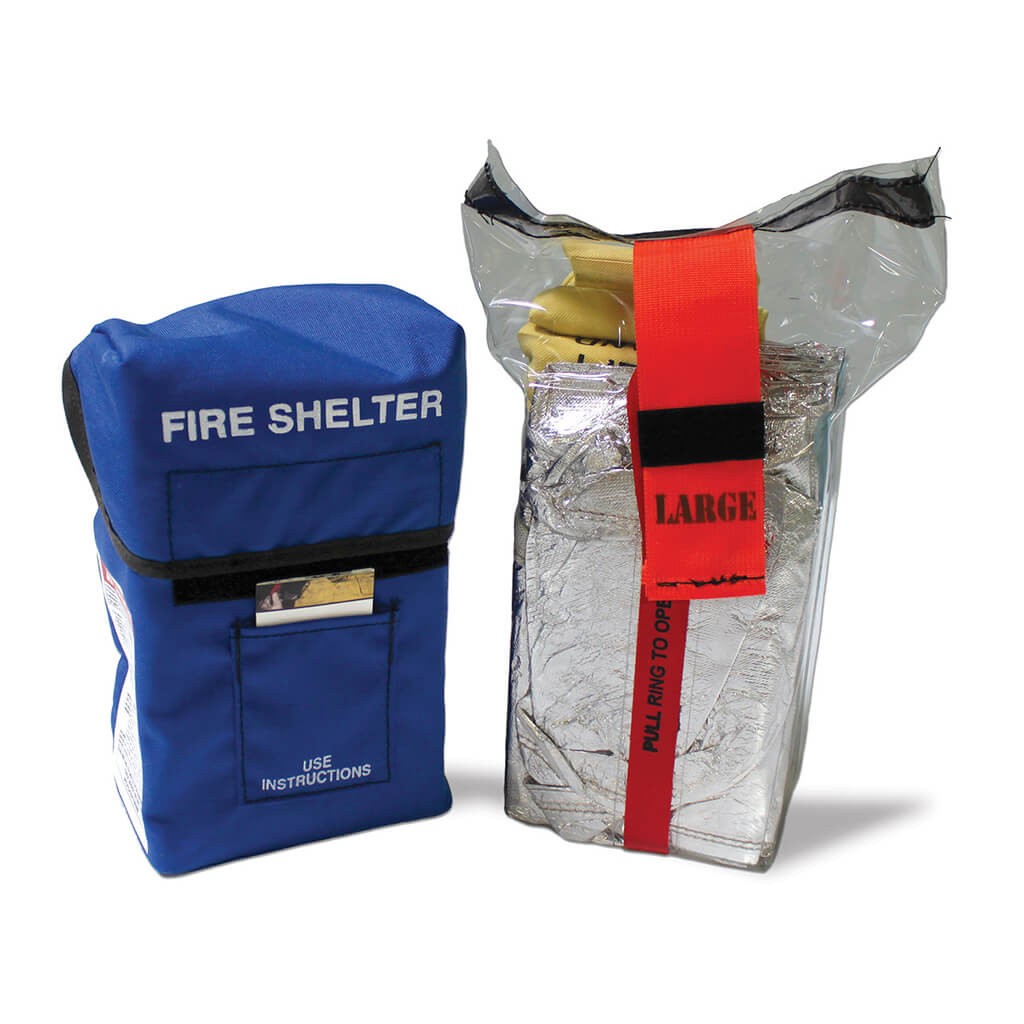 Why Wildland Firefighters Choose Anchor Industries Fire Shelters
Throughout its history, Anchor Industries has remained committed to providing high-quality products and exceptional customer service.
With a focus on innovation and adaptability, Anchor Industries has continuously evolved to meet the changing needs of its customers. The company has diversified its product offerings and expanded into various markets: military, aviation, industrial, and emergency response.
Anchor Industries takes pride in its American heritage and is dedicated to manufacturing its products in the United States. This commitment to domestic production ensures the highest quality standards and supports the local economy.
Over the years, Anchor Industries has built a solid reputation for its commitment to excellence, integrity, and customer satisfaction. With a century of experience behind them, the company continues to push the boundaries of innovation and deliver reliable, durable, and industry-leading products.
Anchor Industries fire shelter products embody the characteristics of proven effectiveness, durable construction, ergonomic design, and firefighter safety. Their commitment to producing high-quality fire shelters has earned them a respected position in the industry.
Firefighters can rely on Anchor Industries' wildland fire shelters to provide effective protection in hazardous environments. With their focus on continuous improvement and adherence to safety standards, Anchor Industries sets the bar high for fire shelter manufacturers, prioritizing the safety and well-being of firefighters on the front lines of duty.
Sources:
https://anchorinc.com/
https://anchorinc.com/products/fire-shelters/