Fire shelters are a key piece of protective equipment used by firefighters battling large wildfires. They offer protection from intense heat and smoke when firefighters cannot escape an oncoming fire. While they must always be used as a last resort in an extreme emergency, proper fire shelter deployment and regular inspections can save your life.
What is a Fire Shelter?
A shelter is a half-cylinder-shaped structure made of aluminized cloth laminated to fiberglass silica. When seen from above, it looks like a sleeping bag covered with tin foil and can effectively block radiant heat and trap breathable air when used properly. However, it is not designed to protect wildland firefighters from prolonged contact with flames. All wildland firefighters are required to carry one while on duty.
How The Fire Shelter Was Developed
The first fire shelter was developed in Australia in 1958 as a bell-shaped structure made from aluminum foil and glass cloth laminate. The following year, the shelter was changed to an A-frame design. They continued to undergo changes until the Forest Service in the mid-1970s mandated it in response to the death of three firefighters working without shelters.
In the late 1970s, concerns over materials that released toxins in response to heat led to mandatory toxicity testing and mandates. In 1994, manufacturers began creating fire shelters in U-shaped bags with scored pull strips instead of A-framed structures. Additional enhancements were made in 2002, including reinforced entrance holes, stronger deployment features, the addition of three laminates for enhanced protection, and changes to the shape to create a half-cylinder with rounded ends.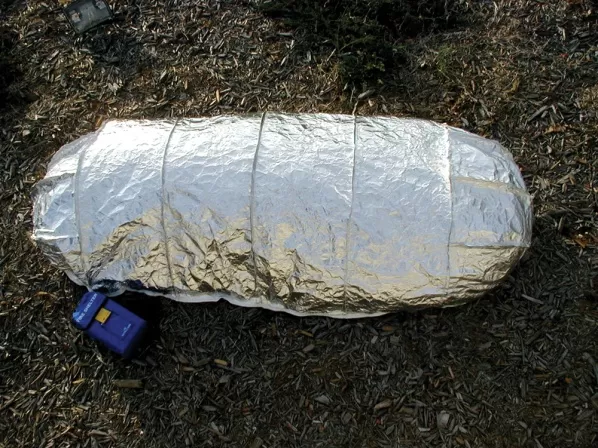 Today, Anchor Industries New Generation Fire Shelters are the dependable solution for wildfire protection. They are manufactured to US Forestry Service specifications and are US Government approved. Their manufacturing processes are ISO 9001 certified, so you know they have taken great care and precaution to create a high-quality product.
Frequently Asked Questions
Are all federal, state, and local agency firefighters required to carry a shelter?
Wildland firefighters have been required to carry a shelter since 1977. The current fire shelter model has been required since 2010.
How does a fire shelter work?
A shelter reflects radiant heat and traps breathable air inside. The silica on the outer layer slows heat transfer to the shelter interior, while the foil reflects the heat. The inner layer of foil prevents gasses from entering the shelter and prevents heat from being reradiated inside the shelter. The result of the two layers sewn together is an air gap that creates additional insulation.
What are the training requirements for using a fire shelter?
Wildland firefighters must undergo annual training that includes a minimum of reviewing the training pamphlet, reviewing a training video, and practicing fire shelter deployment.
Where can I learn how to deploy and use a fire shelter?
First and foremost, consult with your department regarding the proper use, as State, local, and rural fire departments may have different policies. For additional helpful information, here is a video from the National Wildfire Coordinating Group (NWCG) that offers a demonstration of fire shelter deployment and use.
How do I perform a fire shelter inspection?
To inspect a shelter, you should evaluate the color of the PVC bag, the readability of the PVC bag label, and the holes in the bag. If the bag has moisture in it, if the rebag label is yellow, if there is a red "R" on the white label, or if there are one to three holes about one inch big, then the fire shelter should be put out of service.

Here is a comprehensive Fire Shelter Inspection Guide and Rebag Direction from the United States Department of Agriculture Forest Service Technology & Development Program.

When is a fire shelter no longer serviceable for use?
Wildland firefighters should retire their shelter if they see one of three signs: a bag that has turned dark gray, holes in the bag, and water in the bag.

A shelter bag turns dark gray if the aluminum has been rubbed off the shelter onto the PVC bag. Holes in the PVC bag can allow debris into the bag, causing abrasion of the shelter's outer layers.

A white film or dust on the aluminum foil is one sign of corrosion. This occurs if water has entered the PVC bag. Water makes it difficult to shake open the fire shelter during deployment and breaks down the bonds between aluminum foil, silica, and fiberglass cloth.