Wildland firefighters across the nation wear specialty clothing and footwear to protect themselves in dangerous conditions. Unlike firefighters who battle structural fires, wildland firefighters face the formidable forces of nature for days and even weeks on end. That's why they need to invest in boots designed for wildland firefighting. It's also important to know how to take care of wildland fire boots to prolong their lifespan and ensure they are always ready for action.
The Characteristics of Wildland Firefighter Boots
Wildland firefighter boots have a lug sole made of materials that can withstand the heat from the ground without melting. For example, the Vibram Red X Fire Lug outsole is one popular sole able to withstand more than 400℉ without melting. The sole also has a strong tread pattern that allows firefighters to walk safely on broken ground.
Moreover, wildland boots have fire-resistant stitching that won't be undone or weakened by fire, and manufacturers will typically use thread like Technora, a polymer fiber that can resist water and remain stable in extreme temperatures.
Wildland firefighters typically wear boots made of seven-ounce or eight-ounce hide for excellent boot structure. Furthermore, wildland boots are made of premium-vegetable tanned leather, which is highly durable and reliable. Compared to chrome-tanned and hot oil-stuffed leathers, vegetable-tanned leathers are stiffer.
NFPA 1977 Requirements For Wildland Firefighter Boots
Wildland boots undergo rigorous testing before being certified safe for use in the field. The NFPA 1977 standards for wildland boots are as follows:
Boots must be heat resistant without melting or delaminating
All metal parts must be resistant to corrosion
The upper must be cut-resistant and puncture resistant
The sole must have an acceptable level of abrasion resistance
The inside bottom of the boot must not exceed 111°F in a conductive heat test
Soles must be slip resistant
Eyelets and hooks must pass an attachment strength test
Boots should be flame resistant – after a flame of under 5 seconds — and cannot melt, drip, or have any burn-through
All thread should be heat resistant and show no signs of melting, charring or igniting
The interior NFPA label must be easy to read and be firmly affixed in place
Sole that is at least ½" in height
The boot must be a minimum of 8" high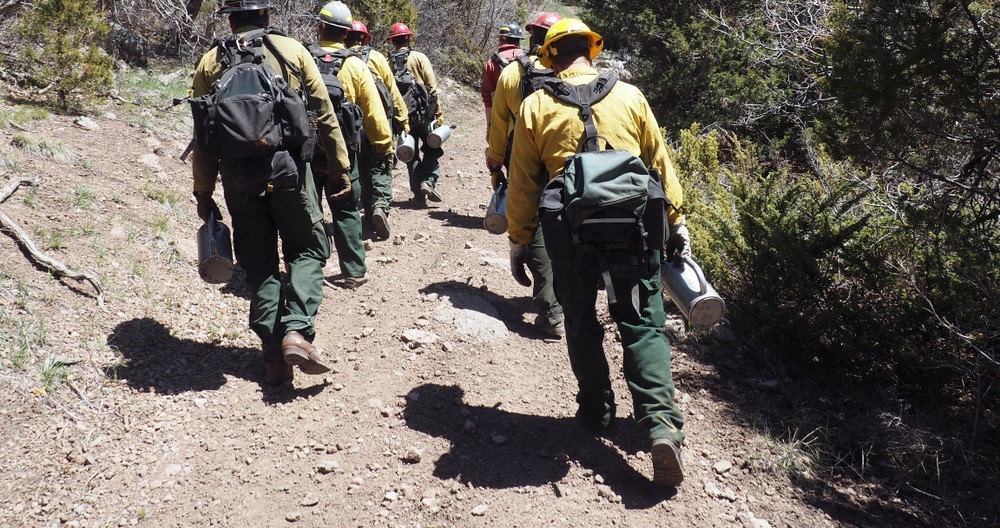 How To Break In Wildland Boots
Hand-stitched wildland boots may require 100 miles of walking to break in. It takes time for the boots to mold to the feet by being pressed into the footbed, the heel, and the upper. The boot needs to be bended and softened to achieve the right fit. Firefighters should start by wearing the boots at home after work for an hour or two every day for about two weeks. After that, the wearer should take short hikes until the boots are comfortable enough to wear for extended periods.
How To Clean and Condition Wildland Boots
Wildland boots are exposed to the harsh elements of wildfires and flame retardants. Heat, dust, dirt, mud, and caustic chemicals test the durability of wildland boots and require regular cleaning. Here's how.
1. Use a horsehair brush and an old toothbrush to remove dirt
Begin by removing any mud and dirt from the boot. Use a stiff-bristled hand brush and a work boot care kit to reach tiny cracks and crevices and to remove as much dirt as possible before going to the next step.
2. Clean with saddle soap
Saddle soap is a leather cleaning product made of natural ingredients like lanolin and beeswax that help clean and nourish the leather. Use a sponge to create a lather with the saddle soap and wipe off dirt and other impurities. Clean the stitching, eyelets, and small cracks and crevices. Then, use a cloth to wipe away the excess. Repeat the process until all dirt is gone.
3. Condition the boots
Wait 10 minutes for the boot to dry, and apply boot oil to coat the leather and to help repel water. To keep your leather in top condition, regularly use a preservative. White's Boot Leather Preservative is a specially formulated product with a blend of leather oils, and propolis waxes to provide superior resistance against chemicals, acids, and water. Not only that, but propolis also helps to prevent the growth of bacteria, mildew, and fungus, making sure your leather lasts longer.
Signs It's Time To Repair Or Replace Wildland Firefighter Boots
If you're wondering how long your wildland firefighter boots should last, the following signs could be indicators it's time for a new pair of boots:
Worn-out soles
Dried or cracked leather
Unwoven threading
Ungluing
Holes
Your Next Pair Of Wildland Firefighter Boots
Wildland fire boots are a must-have for firefighters working in rugged terrain. Not only do they protect against heat and debris, but they also provide support for the feet and ankles. Investing in a good quality pair is important because it can make a big difference in terms of safety and performance on the job. Plus, well-maintained boots can last long, making the investment worthwhile. When you're ready to shop for a new pair of wildland boots from LineGear, here are a few options to consider: